Photos & Text by
Jim Ebenhoh
I could never figure out what the hell that saying meant, but it was the official slogan for this city of 100,000 on the southeastern coast of the South Island of New Zealand. I think my slogan for the place during my few years there was maybe a little less subtle; something like Dunedin--Beautiful City with Damn Good Music. And a lot of it too. Mind you, New Zealand as whole, for only having 3.5 million people compared to 50 million sheep, managed to produce a great lot of bands since about 1980. There were a lot of great non-Dunedin bands, like the
Gordons
-then-
Bailter Space
from Christchurch, and
Jean Paul Sartre Experience
,
Headless Chickens
and
Able Tasmans
from Auckland. But Dunedin was really always where it was at.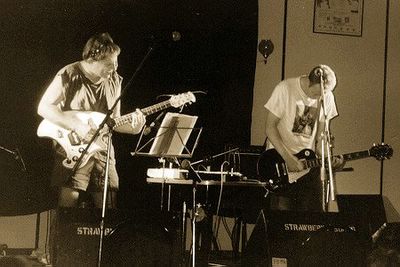 Tall Dwarfs (Chris Knox and Alec Bathgate) at the University of Otago 1995

I guess the part of it that I'm interested in began in the late 70s when
Chris Knox
and his buddies in The Enemy shaved their heads and began their own crazed punk show while students or dole-bludgers loosely affiliated with the
University of Otago
. They inspired countless other scarfies, such as
Graeme Downes
and his
Verlaines
, and Otago Polytechnic students such as
The Clean
, to trade in their schoolboy uniforms for electric guitars and Velvet Underground-inspired KiwiRock.
Martin Phillips
turned his 16-year-old poetry into hits for
The Chills
,
Shayne Carter
skated down from the public housing ghetto of Brockville to lead the teen band Bored Games for a wee while, The Stones did their version of surf-rock, and
Sneaky Feelings
put together some slick melodies.
It all picked up momentum when Roger Shepard began his
Flying Nun
label in Christchurch with The Clean's epic "Tally Ho" single in 1981 and followed it with the Dunedin Double LP in 1982 featuring the Chills, the Verlaines, the Stones and Sneaky Feelings. Over the course of the 80's many more bands put out some amazing music on the Flying Nun label, most of them from Dunedin. Something about the cold rainy winters and the lack of central heating inspiring young Dunedinites to slice their fingers across the strings just in hopes of cutting through the chill. That and the fact that college was free in those days and supplemented with a living stipend sufficient to maintain a diet of Vegemite and toast, leading college students not to take school all that seriously and to have a little spare cash to buy a used amp and let it rip. The Verlaines and Chills carried on through the 80s, the Clean disbanded but the Kilgour brothers kept going as the
Great Unwashed
and Robert Scott started the
Bats
, the all-female
Look Blue Go Purple
did some great stuff, and Shayne Carter moved on to the amazing
Doublehappys
and then on to lead Straitjacket Fits after another Doublehappy was killed while taking in the scenery on a train ride back to Dunedin.
The 90s brought some major label deals for many of these bands, only to see the Chills and Straitjacket Fits break up under the strain of the U.S. business and the Verlaines also dumped by their fickle American major label. Meanwhile, a new movement was emerging out of the salty harbour town of Port Chalmers, just a few miles from Dunedin. Bands like the
3Ds
and the
Dead C
, and individuals like
Alastair Galbraith
and
Peter Jefferies
, were recording themselves at Fish Street Studios (what a name) and distributing cassettes to groups of friends under the guise of the Xpressway label. They eventually pressed some vinyl, and some of it eventually made its way halfway round the world to Boston-area college radio stations like
WHRB
and
WMBR
, where young hipsters who were groomed on the Flying Nun sound chipped their teeth on the new sounds.
I guess I was one of these young hipsters, and I recall the intense gleeful stupefaction that overcame me when I put the Peter Jefferies/Robbie Muir 7" "Catapult/The Fate of the Human Carbine" on the turntable in 1991. I had gotten into the classic Dunedin jangle of
the Chills
,
the Clean
and
the Bats
in the previous year, but the whole
Xpressway
thing was something else. Moody, murky, out there, but intensely beautiful. And somehow managing to evoke the salty fishy foggy splendour of the surroundings I imagined. The
3Ds
were more rock-based, but quirky and pleasantly "not right." I was able to interview the
3Ds
at WHRB in 1992 and found David Mitchell and Denise Roughan to be downright frightened at the fervor with which we recalled all their past releases. I don't think they had really imagined how unique they were in the swamp of Nirvana clones that most of "college rock" was mired in at that time.
A friend of mine spent his junior year studying at the University of Otago in Dunedin and came back with a big fucking cheese-eating grin on his face. He was just giddy. He didn't have to say anything. I vowed to go to Dunedin. I took the next year off, and somehow spent too long on Maui and got stuck in a snowstorm in the Oklahoma panhandle and ran out of money and time, so I didn't make it to New Zealand in 1992. But the next year I applied for a Rotary Scholarship, got it, and had to wait a year to graduate, then a half-year for the NZ school year to start before I headed there in early 1995. In the meantime I saw an amazing show at the MiddleEast, the "NoisyLand" show with
Straitjacket Fits
,
the Bats
, and
JPS Experience
.
The Bats
were especially amazing, though hearing "She Speeds" by the Fits and "Flex" by JPSE was a real highlight too. I also saw a completely robotic and demonic
Bailter Space
at a particularly crucial juncture for my mental well-being. You know, one of those shows where the music is so good you think you're going off the deep end, but you go home that night feeling on a more even keel than you've felt in months. Brought me full-circle, those KiwiBots.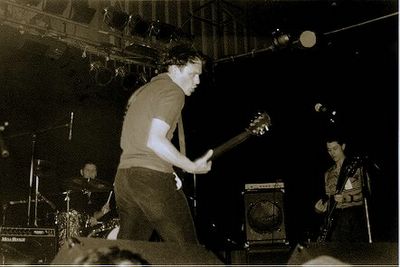 Dimmer (Shayne Carter) at the University of Otago 1995

Anyway, I spent a year studying in Dunedin in 1995, but it wasn't really about the classes I was taking (city planning with a bunch of rugbyhead surveying majors). It wasn't really about the University too much, although I did a show at their great Radio One and couldn't help imagining Graeme Downes slinking around as an undergrad, smoking too much and trying to fit too many million-dollar phrases into a three-minute rock song. It was really about Dunedin, which for me was an entanglement of gorgeous hills and shimmering waters surrounding a town of dank but beautiful Edwardian villas, totally entertwined with this sense of history that wasn't so much the Scotch and haggis the civic leaders touted but the feeling of immense importance as a source of some of the best music I'd ever heard. I know that sounds lame but it all just clicked the day I came to Dunedin.
It ended up being mostly a sense of history, as the real heyday of Dunedin bands was in the '80s and even the
Xpressway
scene was petering out by '95.
Peter Jefferies
moved to Canada with his
Mecca Normal
femme in '96, and
Martin Phillips
,
David Kilgour
,
Shayne Carter
, and
Graeme Downes
temporarily left for northern climes. But I bought some great music for way too cheap. I saw a lot of bands. And I had my own brushes with musical greatness.
First the bands: my first weekend in town I went to see the
Dead C
, a
Handful of Dust
, and Gate at this crazy old seafarers' pub called the Wharf Hotel. About 20 people there, all smelling of patchouli and handrolled cigs. Especially
Alastair Galbraith
. Mindblowing show, and the only time the
Dead C
played live during the 2-1/2 years I was there. Then was Orientation, this big booze-n-rock fest at the beginning of every school year at the University. Thirty bucks for the whole week. In one week I saw the
Verlaines
,
Tall Dwarfs
,
King Loser
,
3Ds
,
the Renderers
, and
Dimmer
(Shayne Carter's semi-solo outing). That first year I also managed to see the
Magick Heads
(Robert Scott of the Bats' new band) several times, a solo
Peter Jefferies
show, a great
3Ds
show where they did a cover of
Guided by Voices'
"Tractor Rape Chain" (I was too drunk to believe it at the time), and
David Kilgour
and
Martin Phillips
as the April Fools. I also DJ'ed around a live-to-air Radio One gig by
Alastair Galbraith
which was haunting and beautiful. Interviewing him over the air, I was told that not only was Dunedin a factor in his music, it was "essential." Or maybe it was "fucking essential." That would have been a better quote.
After a few miserable months back in Ohio in early '96 I returned to my fiancee Kelly and Dunedin. We caught the
Able Tasmans'
last gig, the
Look Blue Go Purple
one-time reunion gig, a "Portstock" at the Port Chalmers Town Hall, and more than a few great Verlaines gigs at the Empire. Which is the best bar in the world, owned until recently by the married rock-star couple that is one-half of
Chug
, and featuring some bloody good organic New Zealand beer on tap. But I digress. Another highlight though not a "gig" was the
Otago Settlers' Museum
exhibition on 30 years of Dunedin popular music, featuring
Chris Knox's
famous 4-track (on which everything in NZ between 1980 and 1984 was recorded) sitting unassumingly in a glass case. As I sit here listening to the
Clean's
"Getting Older" I have to wonder if I should have been more depressed seeing a museum exhibition on the heyday of Dunedin rock than I was at the time.
The whole time I was in Dunedin only a few American bands made it down our way. One was
Sebadoh
.
Lou Barlow
told the crowd what a beautiful city Dunedin was and how his apartment in Boston sucked because there were always trucks backing up in front of it, and I felt kinda weird at knowing exactly what he meant.
Barbara Manning
also came by, as did
Portastatic
. And I think
Fugazi
did a show but I didn't go.
Peter Jefferies at the Empire 1995

So now the stories, gossip, dirt. Well, Kelly and I went to an art school ball at a Tex-Mex restaurant and ended up dancing next to (rather, trying to not get in the way of) a cheerful swingin'
Alastair Galbraith
and his accompaniment. During my first year in Dunedin Alastair was reputed to be living in the shed of a friend of a friend, but the conditions proved to be somewhat unhealthy and that arrangement ended. Another night Kelly and I were standing around our living room after a party when
Robert Scott
walked in and asked "Is Shayne here?" I suggested that Shayne might be at the party next door, and proceeded to blather on about what a great gig Bob had done at the "
Neil Young
Nite" a couple days ago at the Empire, poignantly punctuated at the end when I bleated "Bye, Robert...." as he disappeared into the night. I think I came across as a geek. Kelly took the cake for her brush with fame when she plowed into
Shayne Carter
on her way to the bathroom at the Dunedin Musician's Club after a few too many jugs of
Speights
("The Pride of the South"). A distraught Shayne sneered in his classic drawl, "Waaaatch ooooouuuuutt!!!" We had a good laugh about that one.
I left in the middle of '97 with Kelly to go back to school in Beantown, and it's hard to believe now that I spent nearly 2-1/2 years there. There's a lot else about Dunedin I could tell you, about the crazy sandwiches with eggs and shredded carrots, the gorgeous handknitted secondhand one-dollar wool cardigans at the Red Cross, the dubious fish and chips, the braindead rugbyheads, or the stupendous walks in the Town Belt. But this is a 'zine and 'zines are all about music, or at least that's what I've heard. I guess all I can say is Dunedin is a pretty amazing place even without the music. If you can score a
Rotary Scholarship
or some other way of paying the steep plane fare, don't even think twice about it.
-Jim Ebenhoh
Copyright 1998, 2005